Presentation for students of secondary schools in the frame of the AGIT project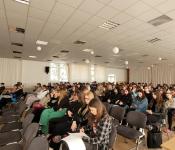 The first training for the secondary school students as part of the AGIT project was held on 9th May 2023 at 9:00 a.m. at Spojená škola Slančíkovej 2 in Nitra. The training was attended by more than 300 students from Stredná športová škola, Hotelová akadémia, Stredná priemyselná škola potravinárska and Gymnázium.  The discussed issue "The effect of human activities on the planet Earth" was divided into several parts: ecological footprint; waste management; negative impacts of industry sectors on the environment; linear economy, circular economy and bioeconomy; European Union's position as a world leader in the battle against climate change. The students were provided with basic information, which was supplemented with concrete examples in practice, practical tasks and educational games. The students actively asked questions to which they search for answers together with the lecturers, which began a discussion, and this was a great added value for everyone.
Despite the fact that students study at secondary schools with different specializations, we are greatly pleased that they show interest in such important topics. It is really very gratifying that young people are not indifferent to this issue. Their positive feedback is very important and motivating for us and represents a source of inspiration for further teaching.